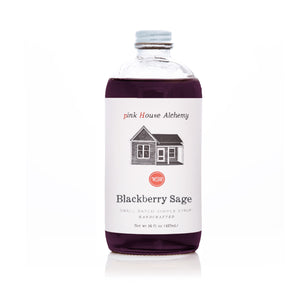 Pink House Alchemy products are produced right here in Arkansas. Their syrups are great for tea, coffee, baking, desserts, ice cream, and of course: COCKTAILS! 
16 fl oz. 
From the makers:
We battled the bees and climbed through thicket and bramble for the thickest, ripest Ozark blackberries. The added earthy sage notes make this the perfect syrup for cocktails, lemonades, and ice cream toppings.
ingredients: fresh fat blackberries, fresh sage, pure cane sugar
our thoughts: blackberry sage syrup was originally developed for a dessert menu item. The dessert was called the "wise guy", a sweet almond crepe, filled with vanilla pastry cream, topped with fresh blackberries, fried sage and blackberry sage syrup, it was delicious (mouth waters as I type)! We liked the syrup so much that we began incorporating it in many crafty drink creations.
suggested uses: add one ounce of blackberry sage syrup and a lemon wedge to your favorite iced tea. add blackberry sage syrup to gin, bitters, fresh berries, lime and lilet rouge for an over the top "smash" cocktail