HOFF SAUCE - LOUISIANA STYLE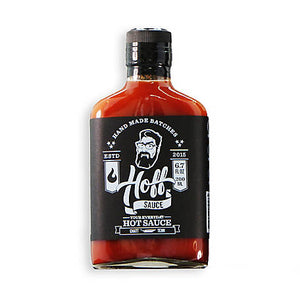 from the maker:
HOFF SAUCE - HOFF'S AWARD WINNING LOUISIANA STYLE HOT SAUCE - 6.7OZ FLASK
Naturally Gluten Free, Vegan, and Sugar Free
We use fresh Tennessee grown Jalapeños to craft this six-ingredient Everyday Hot Sauce. Those farm fresh peppers along with premium spices and vinegar help retain the incredible flavors of our local chilis. This fan favorite has just the right amount of heat and tang with a smooth, smoky finish. Always sure to compliment your dishes without overpowering them.
Ingredients: Red Jalapeño, Habanero, Chipotle, Salt, Vinegar, Garlic
Heat Level: Medium (Great Taste)
Suggested Pairings: Mac & Cheese, Jambalaya, Breakfast Burritos, Chicken Wings, Biscuits & Gravy, and so much more!
Handmade, small batch hot sauce produced in Tennessee

Hoff Sauce is an everyday sauce that's good on, well just about anything

Farm fresh peppers and premium spices compliment your food without overpowering it

Naturally sugar free, gluten-free, vegan, keto, and paleo

Hoff Sauce has been a national 1st Place award winner 3 years in a row