SMOKEN GHOST - CHIPOTLE STYLE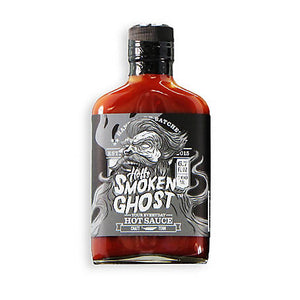 from the maker:
SMOKEN GHOST - HOFF'S SMOKY HANDMADE GHOST PEPPER SAUCE - 6.7 OZ FLASK
Naturally Gluten Free, Vegan, and Sugar Free
We add Ghost peppers and extra Chipotle to create this rich and smooth flavor king. Smoken Ghost is handmade with premium spices and farm fresh peppers. Kick up your chili or mix it with mayonnaise to create a delicious chipotle mayo for burgers or subs.
Heat Level: Hot (Teary-eyed)
Ingredients: Red Jalapeño, Habanero, Chipotle, Ghost, Salt, Vinegar, and Garlic
Suggested Pairings: Chili & Stews, Cole Slaw, Smoked Meats, Oysters, Loaded Potatoes, Hamburgers & Hot Dogs
Hand crafted with fresh Tennessee peppers and gourmet spices

Incredibly smoky and smooth, this award winner compliments foods with a flavorful heat profile

A versatile hot sauce that's great on a variety foods and the perfect addition to marinades, basting sauces, or even mayo

Small batch hot sauce produced from stem to sauce in Chattanooga, Tennessee

Ghost Pepper brings up the heat in this fan favorite tailored for those that like it hot