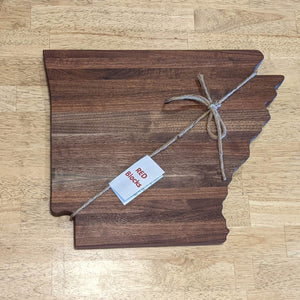 Handmade in Arkansas by Randy E Davidson (RED).
Measures approximately 17" x 14"
1 3/4" thickness
Great for charcuterie, but also a grand cutting board!
About the Artisan
RED blocks is produced out of Randy's home in the wooded foothills of the Ouachita Mountains in Roland, Arkansas between Lake Maumelle and the Arkansas River.  With the beauty of his surroundings as inspiration and these thoughts in mind,  he focuses on making pieces available to family, friends and clients (future friends) to value, cherish and hopefully hand down to future generations. 
Here at eggshells we absolutely love Randy's work and carry his boards in numerous styles and sizes from decorative Arkansas pieces to beautiful checkered cutting boards and all styles of charcuterie and bread boards.
"There is no greater pleasure than discovering the beauty in a piece of timber and creating something that can be used and treasured for many years." -Randy "RED" Davidson