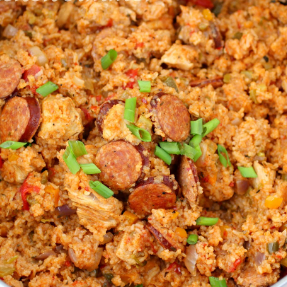 Join us Thursday, October 5 from 6:00pm-8:00pm for a Jambalaya cooking class with Chef Rick Rogers. Learn to make this Cajun dish with some ease as Rick shares his Cajun and Creole knowledge. 

If you had seats in the 9/7/23 class, you have reserved seats in this class unless you specified otherwise. 
Classes typically run for two hours, and include all dishes you and the chef prepare. 
You'll be offered a glass of wine and provided with water. You're welcome to bring any beverage of your choice for the rest of the evening.   Reserve a spot by calling us at 501-664-6900 or checking-out right here in our online store.
If you are part of a larger party please let us know.
All ticket sales are final.  Due to food prep, planning, different chefs and food costs, tickets cannot be transferred to any future classes.  You may transfer your seat to someone else for the same date/class. 
More about the Chef:
Rick Rogers is a private chef with experience in Southern, South American, and World Cuisines. His mother is from El Salvador and he has lived all over the world learning unique cuisines.  Here in the U.S., he has worked at restaurants in Little Rock and New Orleans.  Currently he does private cheffing here in Central Arkansas, including many of our private and public classes at eggshells. Check him out on Instagram @chefrickrogers