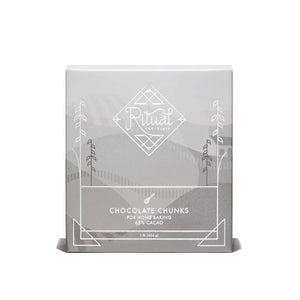 Chocolate Chunks 65% Cacao
From the maker:
As we like to have hefty chocolate chips, we worked to develop our chocolate chunks. They are beautiful rustic disks with our Ritual mold design underneath. They are perfect thrown into your recipe whole or coarsely chopped. Our chocolate chunks are made using our chef's blend, using organic cacao beans from Zorzal (Dominican Republic), O'Tuma (Nicaragua), and Semuliki Forest (Uganda).
This 65% blend gives a beautifully balanced flavor with a touch more cocoa butter to make it easier to work with.