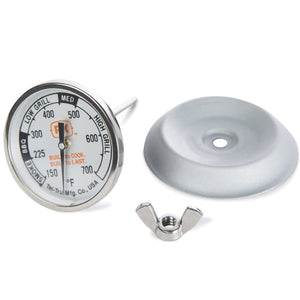 The PK BBQ Thermometer by Tel-Tru is built tough just like the PK Grill & Smoker. Since 1916, Tel-tru Manufacturing has established a reputation for producing thermometers that are the world standard for quality workmanship and accuracy. Recently, PK Grills partnered with Tel-Tru to produce a PK branded BBQ thermometer for the Original PK Grill & Smoker and forthcoming PK grill models.
Accuracy rated at +/- 1% full span.
Perfect for indirect cooking.  Monitor the temperature inside your PK grill capsule.