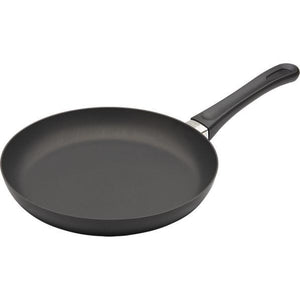 Forget what you know about nonstick cookware. This 10.25" Nonstick Frypan from Scanpan is beautifully and consciously designed and guarantees lifetime performance. Carefully constructed of recycled aluminum, Scanpan Fry Pans feature a PFOA-free, patented Green Tek nonstick ceramic titanium finish that is not only so tough it can withstand a broiler, metal utensils, and the dishwasher, but is guaranteed to release even the most delicate foods. The thick base on Scanpan fry pans feature excellent heat distribution. You'll get the same results as using a stainless steel pan but without all the extra fat or butter necessary for an easy experience. 
The handle, made of a high-density resin called Bakelite, stays cool, even when placed in the oven. 
Broiler-safe, oven-safe, and dishwasher safe up to 500F
Lifetime manufacturer's warranty
100% recycled aluminum construction
PFOA-free, eco-conscious GreenTek nonstick finish
Dimensions of pan (without handle): 3" x 10.25"