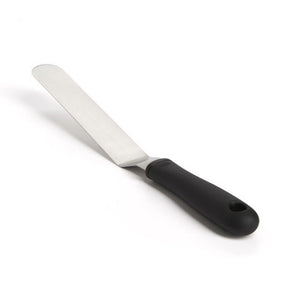 Wanting to improve your cake decorating skills but not sure where to start? You've Googled how to ice a cake but know you need a bent icing knife--what the heck is that? A bent icing knife (sometimes called an offset spatula) has a long, narrow blade that allows you to spread frosting on cakes smoothly and evening. "How do I get the crumbs out of my icing?" -- use the OXO Good Grips Bent Icing Knife. 
The flexible yet sturdy stainless steel bent blade elevates your hand so you're sure to be above the surface of the cake you're icing. Its handle is both non-slip and soft for ergonomic cake decorating. 
The OXO Good Grips Bent Icing Knife is also dishwasher safe! One fewer item to wash by hand during clean up? Count us in!