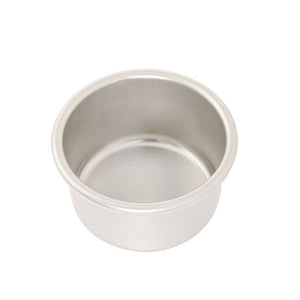 Nordicware's top-rated Naturals®Bakeware collection is made of pure aluminum for superior heat conductivity and produces consistent evenly browned baked goods every time. These premium pans have a lifetime durability and will never rust. Encapsulated galvanized steel rims prevent warping. Creativity meets natural aluminum sustainability.
Cooking Surface: L: 4 in. W: 4 in. H: 2.48 in.
Material: Aluminum
Warranty: Lifetime Warranty
Weight: 0.30 lbs
Care and Use
1. Before initial use and after subsequent uses, hand wash with warm, soapy water.
2. Dishwasher use is not advised, as discoloration will occur due to the cleaning agents used in automatic dishwasher detergent. This discoloration is merely cosmetic and will not affect baking properties or safety of the pan.
3. Natural aluminum pans work well with parchment paper, silicone baking mats, and also traditional butter or shortening and flour methods. When roasting savory foods such as vegetables, butter or cooking oil work well.
4. Nylon, wood, or silicone utensils are recommended. Metal utensils and scouring pads may scratch natural aluminum pans, but will not affect baking performance.
5. Aluminum is reactive to acidic ingredients such as vinegar and tomato products. These foods may darken, pit or corrode the pan after prolonged use