MEXICAN CHILI SIMPLE SYRUP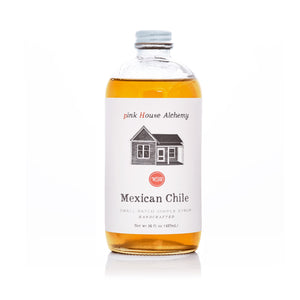 Pink House Alchemy products are produced right here in Arkansas. Their syrups are great for tea, coffee, baking, desserts, ice cream, and of course: COCKTAILS! 
16 fl oz. 
From the makers:
Mexican Chile Syrup is made from the arbol chile. We chose these peppers for their bright hot taste and their distinct smokiness. Use this to make killer chile lime soda, a pH staff favorite. Or get creative in the kitchen and use Mexican Chile for curry dishes and barbecue sauces to add a sweet heat without making the sauce thicker.
Ingredients: cane sugar, water, chile de arbol, cassia chips, vanilla bean, citric acid