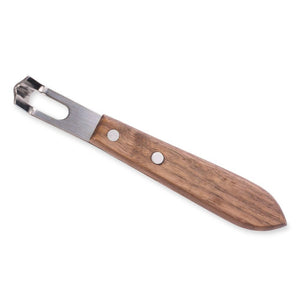 The Viski Professional Stainless Steel Channel Knife with Walnut Handle helps you create professional looking citrus garnishes for cocktails and other drinks.
It features a black walnut polished wood handle for ergonomic support and a curved stainless steel blade perfect for shaving thin, decorative segments of lemon, lime, orange, and grapefruit peels.
Use it to add stunning visual effects and incredible aromatics to your cocktails creations.
Curved, stainless steel channel blade
Carves segments of rind into delicate garnishes
Black walnut wood handle
Dual fortified rivets
Smooth polished wood finish
Most suitable for oranges, lemons, and limes