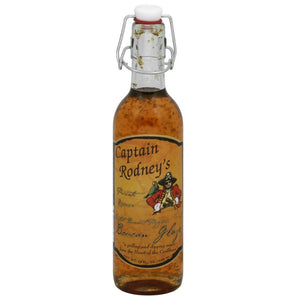 Captain Rodney's Boucan Pepper Glaze is the perfect way to add flavor to every dish, using just the right blend of peppers and spices. A little sweet, a little spicy, we know you'll love drizzling it on everything from meats to veggies.
Try it as a glaze on any sort of meat or vegetable--our customers love to drizzle it on steamed asparagus! Believe it or not, though, the #1 use for Captain Rodney's Boucan Glaze? Captain Rodney's Cheese Bake, a versatile tailgating appetizer that is so easy to make, you'll think you were sleeping while you did it. Here's the recipe:
½ cup Mayonnaise
8 oz package cream cheese
2 cups grated sharp cheddar cheese
2 green onions – chopped
6 Ritz style crackers – crushed
8 slices bacon – cooked and crumbled or ½ cup of real bacon bits
½ cup of Captain Rodney's Boucan Glaze
Mix mayonnaise, cream cheese, cheddar and onions till blended.  Place in pie pan.  Top with crackers and bake at 350 degrees for 15 minutes.  Top with bacon and Captain Rodney's Glaze.  Serve with crackers.