FREEZE COOLING WHISKEY SET OF 2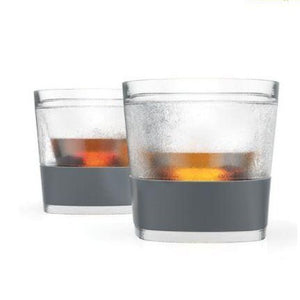 After just 2 hours in the freezer, the proprietary cooling gel in our Whiskey FREEZE will keep your favorite spirit chilled for hours. It helps subdue the overpowering flavor most common in cask strength whiskey and, unlike melting ice, our cups don't wa

For frozen concoctions, freeze HOST Whiskey FREEZE Cooling Cups for at least two hours to keep your drink between forty-three and fifty-three degrees Fahrenheit.

Whether you`re in the mood for on the rocks, an old fashioned, or something sour, keep HOST Whiskey FREEZE Cooling Cups in the freezer so they are ready to go when you are.

Inside the BPA free plastic walls of HOST Whiskey FREEZE Cooling Cups lies our proprietary cooling gel. This gel was precisely engineered in house to keep any beverage the perfect temperature for hours.

Each cup is constructed with an insulated silicone band for comfortable handling.