8" x 6" CUTTING BOARD NATURAL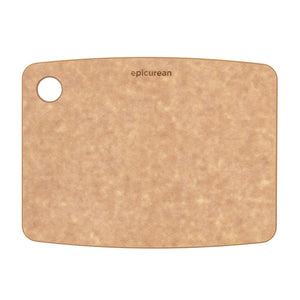 Natural wood fiber based cutting surface trees are harvested from managed forests. Made in the USA. 
Dishwasher safe. NSF approved. Knife Friendly. Maintenance free, no need to oil or bleach. Material develops a richer color over time. 
Temperature resistant to up to 350 degrees. Use as a trivet without leaving browned rings from pots and pans.
Engineered space for handling and hanging.