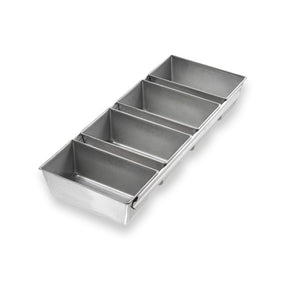 Strapped Mini Loaf Pan - Set of 4
The USA PAN Strapped Set of 4 Mini Loaf Pan has individual pans that provide home bakers with an easy way to bake delicious mini cakes or mini-yeast breads. The set of 4 mini loaf pans comes strapped together, removing the need to handle each individual pan separately. Perfect for saving on oven and counter space, bake four perfectly-sized loaves of your favorite types of bread from apple, banana, and pear all the way to zucchini bread. Simply slide the single pan into the oven, remove with one oven mitt when finished, and enjoy! Each measures 5.25" x 3.125" x 2.25" and overall 15.5" x 6.125" x 2.25"
5 ⅝ x 3 ⅛ x 2 ¼ in. ea.