CORK POUR OVER COFFEE MAKER | 17oz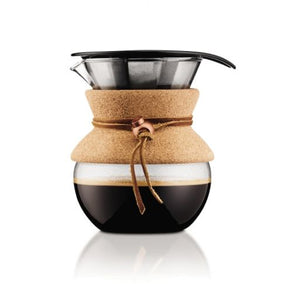 This coffee maker from BODUM sets new standards in the preparation of delectable coffees: no paper filters - just pure flavor.
• Hot water is distributed slowly and evenly over the coffee powder, allowing for a rich taste and robust aroma to develop
• Permanent stainless steel filter - no need to buy paper filters again
• The carafe is made of tasteless borosilicate glass
• Removable cuff protects hands from hot glass
• Dishwasher-safe

The BODUM POUR OVER Coffee Maker has a fine mesh stainless steel filter that eliminates need for paper filters. This promotes the pure unfolding of the flavor - no more paper filters that trap the essential oils and flavors.