CAVENDER'S GREEK SEASONING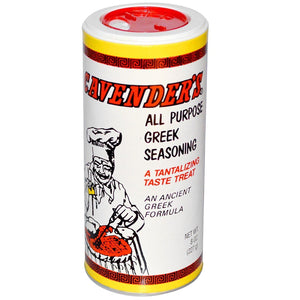 Cavender's seasoning is as distinctive in the foods of today as those prepared for the feasts of the ancient Greeks. This seasoning is excellent on steaks, chops, roasts, meat loaf, chicken, fish, turkey, hamburgers, seafoods, and wild game. Use Cavender's in all cooked vegetables, gravies, soups, stews, casseroles, eggs, poultry dressing and vegetable juices. Ingredients: Salt, black pepper, corn starch, garlic, monosodium glutamate, oregano, flavor base seasoning (Hydrolyzed corn soy protein, sugar, onion powder, spice extracts), parsley and five other spices.
Perfectly prepared blend of 13 ingredients.
No other spices necessary!