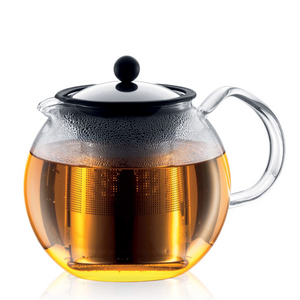 Discover the art of the perfect brew with the ASSAM tea press. This innovative glass teapot with infuser is based on our French press brewing system to ensure an exceptionally pure and refreshing taste.
A stylish addition to any tea lover's home, our teapot with infuser is as practical as it is beautiful. Crafted from heat-resistant borosilicate glass, its clarity means you can observe your tea as it's gently infusing until it reaches your preferred strength. Then simply press down the plunger to stop the brewing process.
Perfect for use with loose-leaf tea or teabags, this teapot with strainer takes precision brewing to a whole new level, transforming the calming art of tea making into a truly visual experience.
Main Features & Benefits
Innovative glass teapot with infuser that brews tea at your preferred strength without needing to remove the infuser.
Patented system that stops tea from brewing once the plunger has been lowered, so tea is not bitter.
Made from heat-resistant borosilicate glass that doesn't alter or impair the flavor of your beverage.
Clear glass teapot lets you see when your tea is at its preferred strength.
The strainer and lid is made from durable stainless steel, capable of withstanding many years of use.
Silicone rim secures filter firmly into the teapot for precision pouring, and stays cool to the touch for safe removal.
Perfect for use with loose-leaf tea or teabags.
Easy to use and easy to clean.
Dishwasher safe.