CITY BONFIRE MERRY CHRISTMAS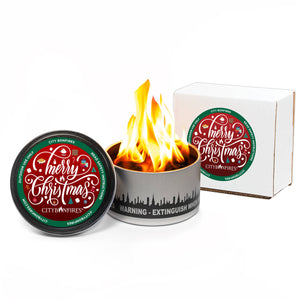 City Bonfires is a portable bonfire, handmade with nontoxic materials in Maryland by 2 Dads whose jobs were impacted by the pandemic. FEATURES Reusable. Recyclable. Eco-friendly. MADE IN THE USA.
Burn time: 3-5 hrs. Portable heating & cooking source. No wood/embers/smoke. 100% non-toxic, FDA food grade soy wax. Safe to cook on. 100% biodegradable, compostable, plant-based briquettes. Easy to light/extinguish. OUTDOOR USE ONLY.