PUMPKIN BUTTERNUT SPICE SYRUP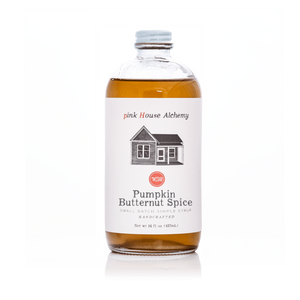 Pink House Alchemy products are produced right here in Arkansas. Their syrups are great for tea, coffee, baking, desserts, ice cream, and of course: COCKTAILS! 
16 fl oz. 
From the makers:
This syrup is a warm and nutty nod to fall! It has all the familiar autumn spices in all the right places. Perfectly blended creamy pumpkin and savory butternut squash are complimented by maple, brown sugar and cardamom. This cozy concoction will surely make you exclaim, "I need a pumpkin spice latte!" No shame, it really is perfect. You can be as excited as we are.
Ingredients: cane sugar, water, pumpkin puree, butternut puree, cassia chips, cardamom seeds, brown sugar, maple extract, kosher salt, lactic acid